Today, the debut release by The Doped Up Dollies hit digital stores. Fans who supported the Kickstarter campaign already have the music in their hands (literally and figuratively, there were digital and physical versions for supporters) and they already know what I'm about to tell you.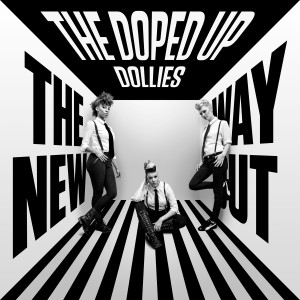 "The New Way Out" is just plain fun. For those who thought this weekend's onslaught of UHauls signaled the end summer, this album will extend the summer vibes for months to come. This feel good record stands out strong among other 2015 releases and it will be a hard act to follow.
For those who are just hearing of The Doped Up Dollies, they're a spin-off of Big D and the Kids Table. The three female vocalists first became a part of the band's aesthetic on the 2009 record "Fluent In Stroll." They've had a supporting role in following albums. Their first feature was an album cut from 2013's "Stroll." This album sticks the singers square in front where they belong. The backing band is still Big D so you can expect solid instrumentation and arrangements. The album truly shines because of the pitch perfect harmonies. The individual singers, Sirae Richardson, Brie Finn, and Erin MacKenzie take their turns with leads, occasionally trading off call-and-response parts in playful, natural ways.
The album opens with the previously released single "Make Your Own Sunshine," setting the tone for the record in terms of feel and lyrical themes. The vibe is bright and uplifting, the lyrics preach positivity, individuality, and perseverance; these are the genes that make up every song on this record. "Papa Plays the Drums" is a classic rock and roll tune that will have you clapping along before the first chorus arrives. Just when you're ready for a bad ass sax solo, one hits. It's not until track three that "Me, Fireman & Lion" brings the reggae that Big D fans might be waiting for. It's also the first time we hear the jump rope rhymes that really stood out on "Fluent in Stroll."
Things take a turn for the Brill-Building sound for the next two tracks. "How Could I Go" and "Driving Around The Square" channel The Shangri-Las and Lesley Gore (think "My Boyfriend's Back"). "Driving" is the first straight-ska song on the record. It's both familiar but in new and unexpected ways. These are two of my favorite tracks on the record.
As the songs tend to be grouped as the record develops, I put the next two tracks in the reggae category. "He Get Arrested" gives us a chance to relax with some roots reggae with some hypnotic sing-jay style vocals, dubs, and brass. The tempo chugs ahead with a skinhead reggae jam aptly titled "Skinhead" featuring vocalist Maddie Ruthless (also from the Stomp/Stroll cover art) that sounds like it's a remastered track from a Trojan Records compilation.
The Dollies return to rhymes with Black Cat, a track that could have been track 2 on "Fluent in Stroll." Reminiscent of Dub 56-era Toasters, "Be Free" delivers bouncy ska with toastmaster Coolie Ranx of Pilfers lending his talents throughout the track (something that made Dub 56 the album it was). "Righteousness" waves the empowerment flag over a skinhead reggae beat with a perfect minimalist bassline.
You might have heard "Escape from Mount Olivedem" in the opening credits of a 60s spy show but that show was never made. Band leader David McWane finally takes the mic on "Come Along" for a mellow rocksteady album closer. Haunting rhymes and dub sounds make for a spooky closer with "The Rude," a track that sounds like it was written specifically for a Big D Halloween show.
This debut record takes on a wide variety of genres and the Dollies vocals effortlessly glide from track to track, delivering a classic sound with lush layered vocals. It gets better with every listen and I discover something new I like every time. The record promises to be available on iTunes, Amazon, and is already on Spotify.
And speaking of Halloween, The Doped Up Dollies will a Big D Halloween show at Brighton Music Hall as their album release party on October 31. Tickets are on sale now. To the best of our knowledge, this will be the first Doped Up Dollies set where the Dollies are in the forefront and not just as supporting members of Big D.
If you're looking to hang with other folks who are as psyched about this record as we are, head to People's Republik in Cambridge on September 14 at 8 PM for a listening party!
Big Tunes: How Could I Go, Driving Around The Square, Righteousness
LISTEN: The Doped Up Dollies – Make Your Own Sunshine
For further reading, check out this interview Brie and David McWane did with Dying Scene.