photo via Johnny Too Bad & the Strikeouts on Facebook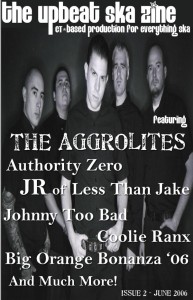 In 2006, I was a contributor to a short-lived Connecticut ska zine (print!) called The Upbeat Ska Zine. I wrote the following piece for the June 2006 issue about Johnny Too Bad and the Strikeouts based on an interview conducted by Gary "Garty" Woodruff, the guy behind CT Ska Productions at the time, and it was just collecting dust on my personal blog. The article was written in relation to a reunion show that was supposed to happen in 2006 that fell through. They were scheduled to play a reunion at this year's Apple Stomp which has since been postponed. They will still play the smaller, more intimate show Saturday, May 31 at Cake Shop. We also have reason to believe they'll be headlining Skanarchy Fest at Cafe Nine on Friday, May 30th (call it a hunch). One can only wonder, if they identified as a Boston band at one point, then where's our Boston reunion show?! Like them on Facebook and check out their 90s-era website.
They released a full length album on Moon Records, shared the stage with the Skatalites, opened for the Mighty Mighty Bosstones, toured as far as New Orleans, and headlined shows in Boston. Not a bad resume for a three-year run. Johnny Too Bad and the Strikeouts did more in three years than many Connecticut bands ever have or will ever get the chance to do. They may not be the most obvious CT name drop, but that doesn't mean that they didn't leave a lasting mark in the CT ska scene. We had a chance to talk to Rodger Phillips, the lead singer of JTB, about what they meant to the scene and what the scene meant to them.
Forming in 1995, JTB was started by Scott Neilson on trumpet, keys, and farfisa, Jay Adelburg on drums, and Rodger when they had left another band. Scott Neilson would prove to be a mainstay. Nick Kain, influenced strongly by bands such as the Pogues, joined originally as a temporary guitarist coming direct from guitar and vocal duties for The Spicy Gribblets, but ended staying long term and became the most important part of their musical direction. His credits include "Cider Song," the ska punk sing-a-long to end all sing-a-longs from their 1997 release Patchwork Girl. This album was only preceded by two demo tapes and an independently released 7" vinyl. Recorded locally in Cheshire, CT, Patchwork Girl was released on Ska Satellite Records (Edna's Goldfish and the Strangeways also had releases on the label), owned by Moon Ska Records, showing the serious attention JTB had received.
Nick Kain left and was later replaced by Anthony Rossomando, a Hamden native, as the band headed in a more rock and power-pop direction (the Hippos anyone?). Jay Adelburg left while they were on tour in Louisiana after a fistfight with Scott, and was soon replaced by Mike Gill. This would prove to be a turning point, as Jay was important to the dynamic within the band, holding people together. Other members include Matt Jones on bari sax and guitar, Rob Nolan on bass, and Dan Delacruz on tenor sax.
JTB was a product of their environment, playing music that was a mixed result of what was in their tape decks. As self-proclaimed "ska geeks," the result was inevitable. Locally, they were influenced by JC Superska, the Spicy Gribblets, Nigel Six, and of course, Spring Heeled Jack. On the national level, they looked to Mephiskapheles, the Pietasters, and the Bluebeats. As fans of traditional ska and skinhead reggae in the beginning of their career, they had the personal pleasure of opening for the Skatalites and Desmond Dekker. Their popularity grew as they shared the stage with the Mighty Mighty Bosstones, Big D and the Kids Table, the Planet Smashers, Skavoovie and the Epitones, Pilfers, The Slackers, and the Scofflaws.
The band moved to Boston, but by 1998, they found themselves in debt, their van was towed from unpaid parking tickets, and enthusiasm had waned. JTB played a show in Boston that would prove to be their last, and they simply disappeared. Kain is now in the Tampoffs, Delacruz plays in reggae/funk band John's Brown Body, and Mike Gill is playing in the Murder Mile with Ron Ragona, former member of SHJ and current vocalist for Lost City Angels. Adelburg has played with the Queers, Forklift, and is currently an executive at Hot Topic. Rossomando played in the Libertines for Pete Doherty, is now playing in the Dirty Pretty Things, and according to Rodger, living the rock star lifestyle. Scott Nielson started the Johnny Too Bad Roots band after the break up, which has since turned in the Soul Merchants, who serves up some of the finer reggae/soul/ska in the state.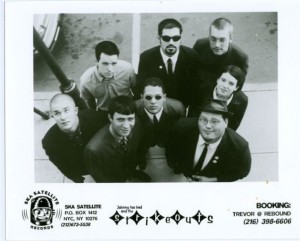 Rodger told us about his thoughts on the 90s ska scene, which he feels cannot be duplicated, but admits there were lots of petty moments, and that audiences and people change and grow. He sees the current scene as fantastic, with some pretty good bands to keep us going. Rodger has been lucky even to be contacted by people telling him how much JTB meant to them. Their posthumous MySpace site (this was relevant in 2006 when this article was written) is filled with comments from past fans, revealing just how JTB reached individuals. Many were thrilled and then disappointed as the possibility of a reunion was teased. Rodger commented that this spring was the first time a reunion was proposed, but it didn't work out due to member availability. Fans will lament to hear that a reunion probably won't happen. For those who have not had the pleasure of seeing Johnny Too Bad and the Strikeouts live, the "Patchwork Girl" CD is available on Interpunk, songs from their demo tapes are posted on Purevolume, and there is a mix of live and studio recordings on their MySpace. Check them out and immerse yourself in a wealth of influential CT ska past.
You can find two of their records on Spotify.
Johnny Too Bad and the Strikeouts – "220" – Live at Pearl Street, Northampton, Date unknown