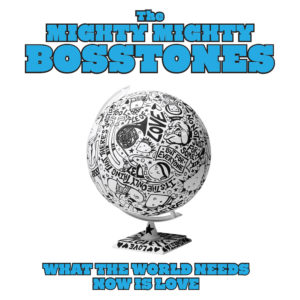 Finally emerging from their post-Throwdown hibernation, The Mighty Mighty BossToneS traveled westward to perform short set outdoors (that's a thing you can do in LA in March) as part of an appearance on Jimmy Kimmel Live. Last night the band performed a few classics as well as their recent single "What The World Needs Now Is Love" released late last year just before throwdown. The band sports the same attire they wore at the 2016 Throwdown, complete with an animated version of the backdrop.
You might notice a few guests on stage that didn't get the memo, or more than likely couldn't get a matching blazer in time, including original Bosstones guitarist Nate Albert. The crew of kids that join the band on stage of "The Impression That I Get and "What the World Needs Now" really steal the show.
That new single is available now on 7-inch vinyl with "I Won't Go Out Like That" on side B. You can purchase one of these limited releases for only $8 directly from the band. To the best of our knowledge, the band has been performing "I Won't Go Out Like That" for some time but was never previously released.
"The Impression That I Get"
#FlashbackFriday: This song appeared on the band's beloved release "Let's Face It" which recently celebrated it's released 20 years ago on March 11, 1997. Billboard Magazine had an interesting take on the record's legacy.
"Someday I Suppose"
"What the World Needs Now Is Love"
"Everybody's Better"
Is the band planning a 20th anniversary tour for "Let's Face It" like every other band that released a hit record in the 90s? We have no idea but we'll have the tour dates in our calendar if it happens.