One of punk music's most definable characteristics is the genre's sense of youth; The stereotypical image of a "punk" involves significantly more instances of drinking 40s discreetly in a public place than sitting in an office planning for your future finances (though i will stand by my assertion that Roth IRAs are Punk As Fuck). Punk deals more in life's immediacy: life is short, your time is limited here, so have the best time that you can now and stop stressing about your future.
This mindset is present in It Could Always Be Worst, the new debut album from Boston ska-punk heroes Poor Jeremy. Released with about 12 hours of advanced notice on May 16th, the album was preceded by a flurry of news including the release of browser-based game based on their 2013 Spare Change EP and the announcement of a Northeastern tour supporting the album. Unfortunately, this also came with the news that the band would be taking a hiatus after the completion of this tour, due to several extraneous circumstances.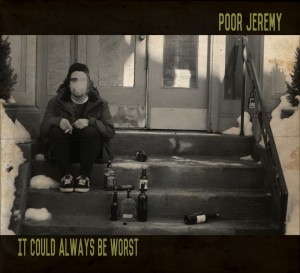 This hiatus could not come at a worse (worst?) time, as It Could Always Be Worst presents a tremendous step up from the band's 2013 EP. Recorded by members and friends of the band in Allston and at Berklee College of Music, Worst brings the frenetic ska-punk of the earlier release while taking advantage of the longer run time of the LP format. At it's most energetic, the record displays a style of third wave ska that picks (it) up (ugh, sorry) where Shot By Lammi and Good Luck left off. However, almost every song on this album has a section that breaks from the usual assault to spread the sound out and put a spotlight on the band's superior musicianship. It was my original assumption after hearing this album that almost all the songs clocked in at longer than those on Spare Change. This turned out to be not exactly accurate, though these songs do feel longer because Poor Jeremy has constructed them to contain so much more breathing room than is allowed on a four song EP.
Although there is a lot of variation in sound on this record, I think it's interesting that the middle of the tracklist is filled with a barrage of shorter, more diverse songs. This starts with "People Like You", a one-take acoustic number that acts as a call to arms for supporting your local music scene. Putting this stripped-down song directly in the middle of the album makes it stand out from the full-band tracks that came before it, as well as making it the album's centerpiece (a designation which is supported by the lyric's reinforcement of youthful community, one of the album's prominent themes). "The Car Song" moves at a quick pace while switching up instrumentation under a repeated stanza of lyrics, and "Bottom of the Bottle" features a hardcore breakdown that serves as the album's heaviest moment. From there we hear "Ska's Not Dead (1234 Pickitup)", easily the weirdest song on the album, with a chorus that almost matches the frightening heaviness of "Bottle" with seemingly tongue-in-cheek lyrics about a basement show ska warrior. While convention would assume this track would take away from the impact of the songs around it, instead the track counters the serious nature of the other songs and shows off the band's sense of humor (essentially saying "we, as a band, are not afraid to get weird"). This cluster of songs moves a lot quicker than everything that came before it, which I think keeps the album's flow interesting and helps to transition to the album's closers.
As I mentioned above, the real heart of It Could Always Be Worst lies in it's lyrics, as singer Nick Vasquez delivers at times mile-a-minute statements (album opener "Worth A Million", specifically) about co-existing in a basement-show scene. Most of the lyrics featured on the album involve the perils of adulthood and death, though most also have a triumphant quality to them, as if instructing the listener to push those concerns to the side and live in the moment. This is especially noticeable in the lyric's relationship with money, as there are numerous mentions of empty bank accounts and how little that matters in the long run (the most succinct example of this being "My life is ending today and tomorrow and the day after that/And my bank account won't matter when I'm gone" from the great sing-along chorus of "Shadow Facts"). The chorus of album standout/closer "Jacket" acts as the album's thematic center, and Poop Jerem recognize this, as it is repeated for over half the song's duration (not a bad thing, the band keeps it interesting by playing with dynamics, slowing the song down and stripping it instrumentally to just guitar and vocals before gradually bringing in all the other pieces to end on one of the album's most anthemic moments). Closing the album with such a strong message was one of the several factors that, on my first listen through, made me start the record over from the beginning to listen to it all over again.
All these aspects coalesce to create a truly impressive debut LP full of the celebration of youth and willful irresponsibility from a band that will be missed. The album's title acts as a play on words of the saying "it could always be worse": that rock bottom is out there somewhere, but living in the moment with good friends and a great community can make anything enjoyable.
BIG TUNES: Jacket, Worth A Million, Shadow Facts, Ignorance is Bliss
It Could Always Be Worst is available as a digital download or as a physical CD via Bandcamp. If you like what you hear, please consider supporting this local band. Be sure to check out Poor Jeremy on Facebook and Twitter.