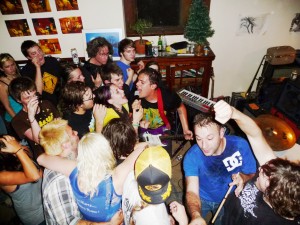 Everyone's favorite punk/ska/folk/etc collective/band/guy/party play at the Middle East Downstairs on Thursday, December 20th. Last time I saw them was almost a year ago at Irving Plaza in New York City with The Slackers and The Pietasters. Between their commitment to playing affordable all-ages shows and general party atmosphere (Bring Your Own Band tour anyone?), I'm a fan. Oh and every song is a sing-a-long. Oh and their fans know every word. Every. Word. I'm always impressed by the dedication of their fans.
Thursday, December 20, 2012
Bomb the Music Industry! (special guests  tba)
All Ages, $10, 7 PM Doors
Tickets – Facebook Event
UPDATE 12/3/12 8:00 PM: Math the Band added to this bill! Hooray!