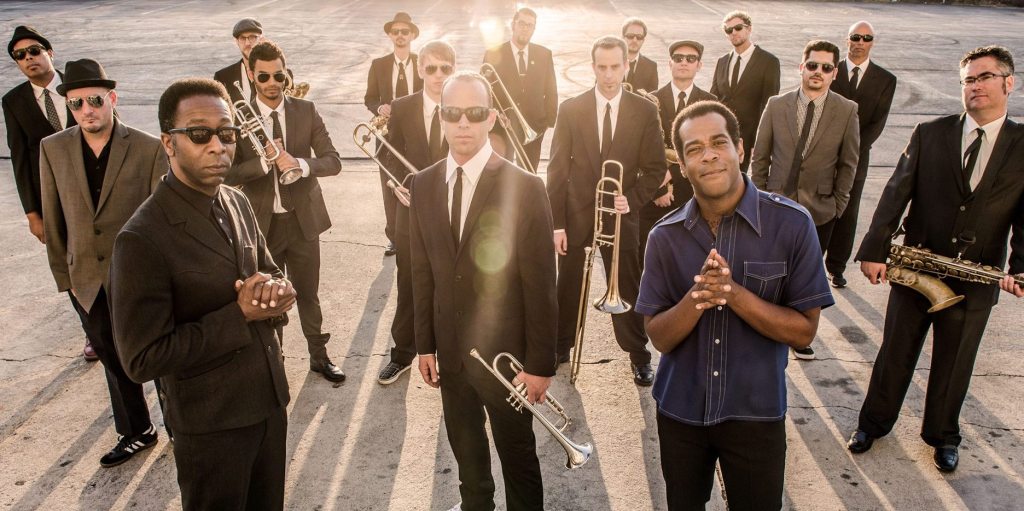 Let's get one thing out of the way, being in a band is expensive, particularly when it comes to recording and travel. Studio time doesn't pay for itself and the price of gas is only going to go up. The more members, the more expensive it gets, any 7-piece ska band will back me up on this. Now imagine doing this all with over 20 people. I'm already exhausted. None of this scares Western Standard Time, but they need your help.
Western Standard Time calls themselves a big band tribute to The Skatalites. The beat is still unequivocally ska, but they've brought in big band horn arrangements to make big tunes even bigger. This video below finds them performing the Hepcat classic "No Worries," here's the original for comparison.
They released a 10-track record in 2012 featuring such Skatalites standards such as "Freedom Sounds," "Guns of Navarone," and "Latin Goes Ska." You can find that album on iTunes, Amazon, and Spotify. Now, they're ready to record a second record and take their sound beyond Los Angeles. Here's the pitch:
We have the studio picked out, the musicians selected, and amazing charts that have not yet been recorded. But we need your help! Making this happen is not easy!! We have to rent a large enough studio that fits 20+ musicians at one time, engineers, mixing, mastering, duplication, artwork, promotion, distribution…. Plus we want to take this music to other countries and perform LIVE for our fans and not be limited to just performing for our LA fans while everyone else watches on Youtube. This music like most music needs to be seen live where the band can feel your energy and you can hear and feel ours. This also requires funding… tours require purchasing flights, hotels, transportation etc. If you want us to take this music to your country, your city we can make it happen together!
Typically, when I chip in on a crowdfunding campaign, it's going towards something specific such as a record or a tour. They're looking for something much more inclusive. I'd love to see them on the east coast, but given the size of the band and the cost of touring, I'm still skeptical. The fundraising goal of $18,000 honestly doesn't seem high enough to me unless that's just capital, but I'm no expert.
What is important is who is involved: Greg Lee and Alex Désert of Hepcat and Brian Dixon and Korey Horn of The Aggrolites are some names you might recognize. Not enough for you? One of their promotional videos promises even more big names on record number two like Fishbone, The Slackers, Jump with Joey, See Spot, The Debonaires, Westbound Train, Chris Murray, Ozomatli, and more. Watch below for more information.
The rewards and incentives are fairly standard: Tunes, vinyl, signed stuff, meet and greets. At the $250 level you can get a signed chart which is pretty unique. Head to their Indiegogo page for the full spread.