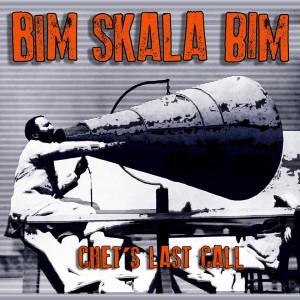 Exciting news for Bim fans these days. In late April Dan Vitale announced via the band's Facebok page that there would be two new releases in the bands future. Details are much clearer now that a pre-order has been announced for the bands tenth album Chet's Last Call. The first 500 orders will ship with a limited edition covers collection called Musical Biscuits that I'm sure we are all eager to sit tight and listen keenly to. The records will be released digitally on August 17th and physical copies of Chet's Last Call are expected to ship in late September. Pre-orders will provide instant gratification in the form of a teaser track.
If that wasn't enough, the band will mash it up this Summer, all over New England.
July 18th The Thirsty Moose in Portsmouth NH
July 19th The Beachcomber in Wellfleet Mass
July 20th The Middle East Down in Cambridge Mass…18 plus (tickets)
July 21st The Flywheel in Easthampton Mass…All ages
Album Release Shows
August 16th The Big Easy in Portland Maine 2 shows All ages 7pm
August 17th The Beachcomber in Wellfleet Mass.
August 18th Big Boston Booze Cruise 2pm to 6pm Boston Harbor 21plus
What's that you say? Two records and multiple shows are not enough for you? What else do you need?
A lost Jackie Starr Bim Skala Bim track? Done.
Wait, I know. I get it. It's hot outside. You want to stay in, maybe watch a movie. Perhaps, an indie flick. Might I suggest you check out Steal Away, a previously lost early 90's indie film uploaded to YouTube in full by director Jack Sherman.
Content Warning: This film has scenes that depict or discuss abduction, abuse, and sexual violence.

"An underground saga that weaves the Boston Music scene into a semi-operatic, neo-realistic love/hate struggle. Dan, (Dan Vitale of Bim Skala Bim and Steady Earnest) is a poor, down-on-his-luck singer/activist spurned by his girlfriend Karen (Karen Moskow.)
The star-crossed couple battle it out over many difficult issues like dominance, quality time, and the price of true artistic expression. Karen's father, Police Sgt. James Goldman, (Mr.Jimmy Miller- rockstar producer of The Rolling Stones, Traffic, Blind Faith, and Motorhead) has never liked Dan or the idea that he has dated his daughter for the last three years. Tempers begin to boil as Karen's new boyfriend Matt, (Ted Vitale, WHAT Theatre Wellfleet, MA) and the Goldmans realize that Dan may have something to do with Karen's untimely disapearance, and the search is on.
The awesome punk/ska and reggae soundtrack features performances and music from many of Boston's most popular bands: Bim Skala Bim at Fort Apache Studio, The Mighty Mighty Bosstones at TT The Bears Place, Dogzilla at The Paradise, Human Nature at the (now defunct) Channel Club, Steady Earnest and many more!"
Want more? Check out Ready Steady Ska's interview with Dan Vitale.