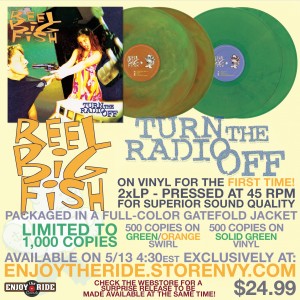 Just hours ago, Long Island record label Enjoy The Ride made Reel Big Fish's "Turn the Radio Off" available on vinyl for the first time. Originally released in 1996, this album proved to be highly influential and for many is synonymous with ska's third wave. To this day, I still know every word to every song and can sing along to every horn solo. While there are those haters who love to take cheap shots at the third wave, I know that bands like RBF and the Bosstones actually opened the door for me to bands like The Toasters, The Slackers, The Specials, and the artists that influenced them.
They're going for $24.99 direct from Enjoy The Ride's online store and there are only 1000 copies being made, 500 in green/orange swirl and 500 in solid green. While it's just the original 16 songs, the records spin at 45rpm making it a double LP. Which is to say, order yours sooner than later.
UPDATE 5/14/14 6:30PM: They did, in fact, sell out. That was fast.
Go ahead, give it a listen, it won't hurt…
…anyone else a little surprised/bummed that Asbestos Records didn't get this release?