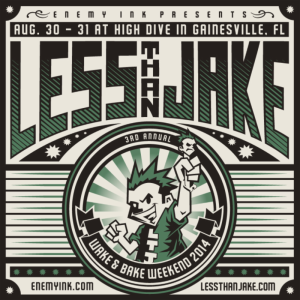 A week from today, Less Than Jake will kick off their third annual Wake and Bake weekend in their hometown of Gainesville, Florida. This two-day event has Less Than Jake closing out two nights of music with special guest openers. To generate some excitement around the openers, the band has released a free 7-song sampler for download. The compilation features songs by The Duppies, General Tso's Fury, UNRB, Mighty Mongo, Teen Agers, Chilled Monkey Brains, and of course Less Than Jake.
Stylistically, the bands will mostly appeal to those interested in 3rd wave and ska-punk. The Duppies deliver up traditional ska sounds, and the Chilled Monkey Brains song bounces between hardcore punk with a pirate-y 6/8 break. Teen Agers offer up some straight up pop/punk that will speak to Less Than Jake fans. The Less Than Jake track is the chill and bouncy "Do The Math," a single off of their most recent release, See the Light. Watch the fantastic music video for Do The Math and learn more about the song here.
Wake and Bake weekend is August 30th and 31st at the High Dive in Gainesville and it appears the very reasonably priced tickets are still on sale. Head to the Facebook event for ticket links for each day.