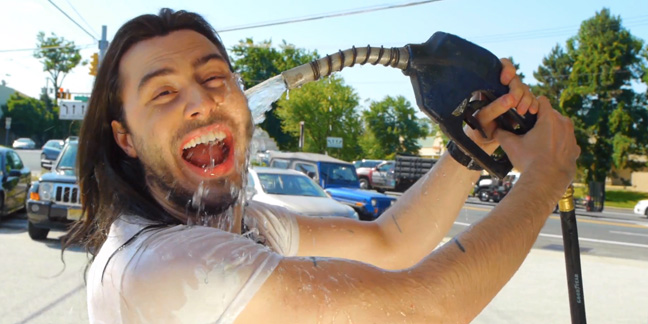 We here at Boston Ska are huge fans of Andrew W.K., the party-rock hitmaker turned motivational speaker who has spent the last decade and a half ailing the world of it's party deficiencies. Calling Andrew the human embodiment of partying is somehow still an understatement, as even a casual glance at his very active Twitter account and his other seemingly random adventures paint the picture of a man who has made it his life's goal to spread the positive message of partying to everyone he meets. Since his debut, 2001's I Get Wet, Andrew's influence has grown considerably, to the point where he was at one point all but confirmed to be a Cultural Ambassador to The Middle East for the United States. Recently, Andrew has been on a world-wide tour celebrating the anniversary of the release of I Get Wet, the last leg of which is set to conclude a few months into 2015.
That's why when we found out that Andrew was opening up for The Mighty Mighty Bosstones on the third and final night of this year's Homedown Throwdown, we were  beyond excited. Frothing at the mouth, we emailed Andrew asking if he would like to talk to us about just about anything at all, while worried onlookers at the coffee shop we were sitting in became more and more attentive of our increasingly erratic behavior. Then, when he responded saying he would love to answer some questions, we convulsed excitedly, to the point of which said onlookers began calling emergency services. The following is a short form interview reflecting the questions we could type out before the paramedics arrived:
Alex: First off, whats the story of how you ended up on this bill? Had the Throwdown been on your radar previously?
Andrew: I'm amazed we got asked to play at this show! I've heard of the Throwdown before, and was super honored that the Mighty Mighty Bosstones asked us to be part of it. It's got such a good holiday spirit – a really great way to party in the New Year, too!
AC: Do you have a personal relationship with ska, or any other Jamaican music? Any favorite tracks/albums/artists?
AWK: Well, I've always loved Ska music, even though it's not really the style of music I've played in my own band. My only other connection to Jamaican music is that I produced an album for Lee "Scratch" Perry a few years ago called "Repentance". It was a life-changing experience. He is a master of masters.
"Repentance" was nominated for the "Best Reggae Album" Grammy in 2009. Check out Andrew and Lee "Scratch" Perry in the studio during the making of the album, via Pitchfork:
AC: What is your songwriting process like? How has it progressed since I Get Wet?
AWK: I just try to make music that has an intense energizing feeling to it! Nothing has ever really progressed beyond that. Just try to get a spirit conjured up using the music and sound!
AC: We here at Bostonska are big fans of your advice column, where your answers to difficult and deeply philosophical questions are articulate and filled with the positive energy you seem to convey at all times. Do you have any favorite questions that you have received so far? Any tips on embracing darker subject matters with such positivity?
AWK: Thank you for your very kind words and for taking the time to read the column! I feel very lucky to have this chance to write it, and I really hope that some of these ideas are helpful to people. It's definitely helpful to me to talk and think about stuff like this. I really like all the questions I've gotten. I try to go with more intense topics – or at least topics that get me thinking about stuff that I maybe don't always get to talk about. I consider the whole experience a huge privilege. I'm not really qualified or educated to give people traditional advice or anything, but I do take it seriously and do my best to write something that is hopefully useful – even if to only one person.
AC: So you've got the highly acclaimed pizza guitar, whats next on your pizza-themed object radar?
AWK: Thanks for asking about my pizza guitar! It was a dream come true and it was all thanks to the incredible people at ESP guitars! I had wanted to make a pizza guitar for many, many years, but they were the only ones who actually could do it! I'm working a new guitar now! Just wait until you see it!
AC: Any advice for aspiring bands?
AWK: Just party and play and play and party and enjoy the whole experience! The more you play, the better – at least that's what I think.
AC: Your current, very extensive tour seems to be ending in a few months, any plans post-tour?
AWK: The Party Bible book is my main work right now. Writing my first ever book has been a very challenging project and it just keeps on going. But we are playing shows and I'm doing other stuff. Mainly, I just keep partying as many ways as I can, and as hard as possible. Thank you for talking with me! And keep on doing what you're doing!
Andrew W.K. will be performing alongside the Mighty Mighty Bosstones and the Lost City Angels this coming Sunday (12/28) for the third night of the Bosstone's Annual Hometown Throwdown. Below, watch a video of Andrew playing Warped Tour back in 2010:
Read up on the rest of the bands playing this year's Throwdown in our 2014 Throwdown Primer, and tickets to the shows are still on sale via Livenation.