One might wonder why bother with radio or podcasts in the days of Spotify and Google. If I can search for the song I want to hear and listen to it on-demand, why would I need a DJ to play it for me?
I can think of three very crystal clear reasons:
[ordered_list style="decimal"]
 These services, while accessible to local musicians in some ways, certainly gives preference to established and mainstream acts.
Sometimes you might just not know what you want to listen to
(This is the big one) Sometimes you want need recommendations.
[/ordered_list]
DJs are a source for music. They've been charged with the sacred task of selecting  songs for the enjoyment of the crowd, big or small, live or recorded, in person or over the air. We haven't stopped making mixes or suggesting music to each other, we've just changed how we do it. If you're anything like me, you crave new music and new bands, be they new to the scene or just new to me. In short, tell me what to listen to.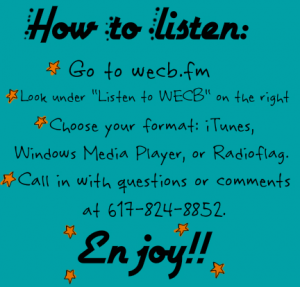 There's a new radio show reaching the Boston airwaves to help you with your ska quest. Pick It Up broadcasts Wednesdays from 4-6 PM on WECB livening up your hump-day commute. Hosted by DJ Gaby Mikorenda, the show mixes up most flavors of ska. Yesterday I tuned in to hear everything from 3rd wave ska/punk to two-tone to reggae revival. More than anything, I appreciate the variety and it's for sure a way to bring new fans into the fold. Gaby also interviewed Fairfax, VA-based punk/ska band 13 Towers to vary things up.
Once an AM station, WECB shows can be streamed online at wecb.fm or by downloading the RadioFlag mobile app, so definitely do tune in! In fact, go set a reminder right now. According to their website, WECB "is the voice of the students of Emerson College" and is their "oldest radio station, broadcasting since 1947, and is an entirely freeform, student-run, college radio station."
Pick It Up joins a long tradition of Boston-based ska radio and ska radio in general. On the air since 1996, Generoso's Bovine Ska and Rocksteady has been spinning ska, rocksteady, and mento on WMBR 88.1 FM out of Cambridge Tuesday Nights/Early Wednesday mornings from Midnight to 2am. If you find you can't stay up so late, head to the archives to listen to the most recent episode.
Still haven't gotten your fix? Here are some other great ska radio shows and podcasts (Musical Occupation hosts playlists and recordings for these programs):
[unordered_list style="bullet"]
[/unordered_list]
It's worth noting that the other Emerson station used to be the home of "Rockers," a weekday block of reggae every weeknight from 7-10pm that was recently cancelled. It was once "the country's longest-running college-radio show, playing a mix of Roots, Reggae, Culture and Dancehall." I'm convinced canceling the show was the best move and it will certainly be missed.
What ska radio shows and podcasts do you listen to? Give us some recommendations in the comments!
It's also worth checking out the list of ska radio programs from times gone by on Bostonska.com.