In the past few weeks, Boston ska/punk pals Poor Jeremy have hinted heavily at May being an important month for the band, and this week's announcements made a pretty good case for their claims. First and foremost, it appears that the new full length the band has been working on is very much near completion! The band also revealed the album's grammatically confusing title It Could Always Be Worst as well as it's cover art: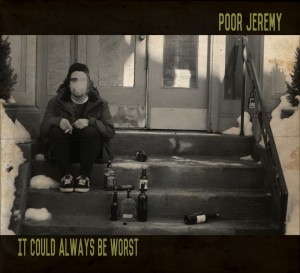 While a definite release date and tracklist have yet to be announced, I would imagine they are two of the other surprises Poor Jeremy has in store for us this month. It Could Always Be Worst will be the band's first release since 2013's Spare Change EP.
Poor Jeremy will be going on a short Northeastern tour this month in support of the new album, and the tour will double as a final farewell before the band's hiatus. There will be two Massachusetts shows, first at Michael's Billiards and Sports Bar in Amherst on the 20th and the final show at Milhaus in Allston on the 23rd (because this is a house show, we won't be listing the address, but you can message the band for more info). The setting of the hiatus show in particular will be a perfect fit for the band's style/aesthetic, and will surely give Poor Jeremy the proper send-off they deserve. Check out the tour's Facebook event page for more info.
Poor Jeremy – It Could Always Be Worst/Hiatus Tour May 2015:
5/19: Warwick, NY – Village Billiards
5/20: Amherst, MA – Michael's Billiards and Sports Bar
5/21: Rahway, NJ – The Railhouse 1449
5/22: Cape Elizabeth, ME – Eswhy Eskay A Farm
5/23: Allston, MA – Milhaus (HIATUS SHOW, message band for info)
And finally, the month's announcements were kicked off by the release of Spare Change?, a web browser-based video game Poor Jeremy has been working on with EA Games for the past year. The game's title and design come from the band's aforementioned 2013 EP (which you can listen to below), and features an 8-bit rendition of the EP's standout track "Dying Like a Fly in a Cup". The game is pretty addicting and will be featured in next month's issue of Game Informer's magazine, where it was nominated for the Best New Game of 2015. Let us know, have you played it? What is your high score? I for the life of me cannot seem to get a score over 140, but I'd much rather be terrible at this game in private than in a game like League of Legends where I can be terrible and also subject to the feedback of others. Play Spare Change? over at GameSalad.