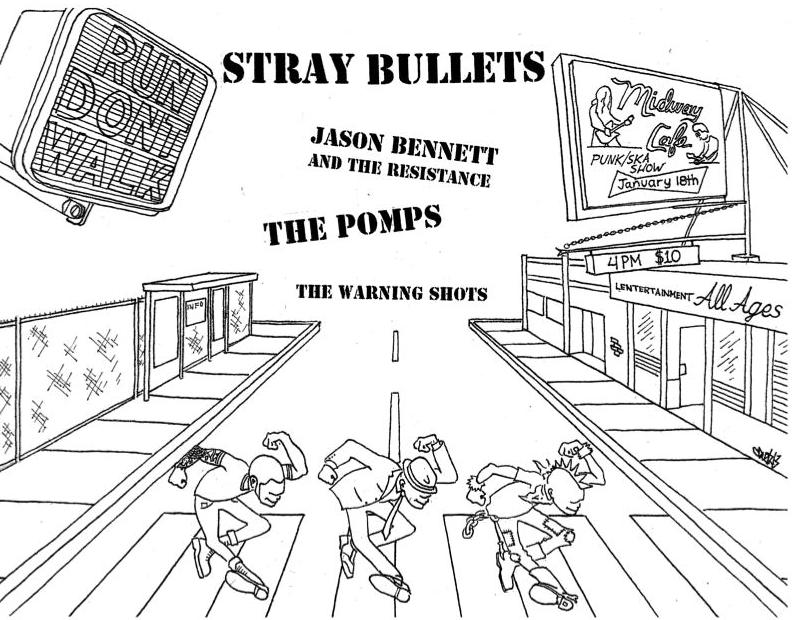 Cold got you down? Feeling overall frozen? Come by Midway Cafe in JP for a hot toddy (note: I have no idea if they make hot toddies).
Stray Bullets will be headlining a Moonstomping Snowstomping Matinee Saturday, January 18 starting at 4pm. The show is all ages and $10 also gets you well-rounded punk and ska bill with Jason Bennett and the Resistance, The Pomps, and The Warning Shots.
According to their Facebook page, Stray Bullets are on the final stages of recording a new record. In 2012, they returned from a 6-year hiatus and re-released their 2004 album, The Slings and Arrows of Outrageous Fortune on  bandcamp. They've been playing shows since since and last released the single The Anchor in June of this year. This track was also included on This Is New England, a really great benefit compilation featuring northeast area punk and ska bands.
Jason Bennett and the Resistance will deliver up folk-inspired punk rock and roll. The Pomps were fairly quiet in 2013 but have promised more in 2014. I always enjoy their sharp new wave ska pop blend. The Warning Shots will kick of the evening with the flavor of sing-a-long punk you always loved. Every one of these bands is Boston-born so do your damnedest to brave the cold to support this local show at a great local venue.
The Stray Bullets – "Whiskey in My Coffee" – Midway Cafe, JP
Jason Bennett and the Resistance – "Walking Wounded" – Music Video
The Warning Shots – "No Holidays" – Music Video