The Slackers are by far one of the hardest working ska bands right now. They play countless shows around the world year-round. Yet, they manage to release quality music on fairly regular basis. In my mind, The Great Rocksteady Swindle (2010), The Radio (2012), and My Bed Is a Boat (2013) are still recent releases and I'm still soaking them up. They'd be well within their right to take their time with the next release. But then they wouldn't be the hard-working band that they are.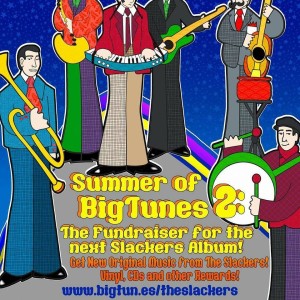 This weekend the band announced a crowd-funding campaign through Big Tun.es (the same folks behind Whatevski Records). The record will feature 12 new songs. Saxist Dave Hillyard says, "In trying to find our way towards a new album, we have worked with 3 producers; Vic Axelrod, Brian Dixon, and our own, Agent Jay.  Each one of them has supervised the recording of 4 tunes." Axelrod is the mastermind behind artists and projects like Sharon Jones, Easy Star, and Amy Winhouse. You know Dixon as former guitarist of The Aggrolites. Agent Jay, of course, has been involved in the engineering of their records for years but his expertise has not always been showcased in this way.
---
"We live in a post-record label age where bands are dependent upon the community that is our fans to help bring our music out into the world. Two years ago, we partnered with BIG TUNES and were able to bring out our last batch of music and hopefully, this year with your support we will be able to do so again." – Dave Hillyard, Saxophone
---
In two short days, the $25,000 campaign has almost reached $12,000 and one of the rewards is already maxed out! Rewards range from digital to CD, 7-inch to LP, posters, t-shirts, and show tickets. Kick-in today before the rewards are all gone! (It's safe to assume that so long as the project reaches funding, you'll be able to pick up the music even if you don't chip in now… but you still should.)
In the video below, you get a glimpse of studio sessions and rehearsals with new songs teased in the background throughout. If you look closely you might also see the dapper bassist Marcus Geard in civilian attire.