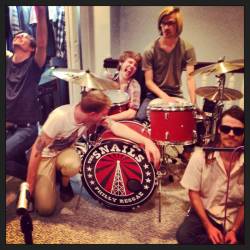 Unless you own some sort of currency printing machine, financing a band is no easy task. Between buying gear, merch, and transportation to get to shows, the costs add up almost immediately. That's why when something financially detrimental happens to a band, the consequences can be devastating.
An unfortunate example of this involves The Snails, who had their van full of gear stolen from them this past Monday. What's even worse is that this happened within weeks of their three week tour of the eastern United States. Luckily, the Philly Ska act is not willing to go down without a fight. Yesterday, the band set up a Big Tunes Campaign (think Kickstarter but for musical acts) to raise money for their upcoming tour, which is to promote their new double EP Songs From The Hydrogen Jukebox Volumes 1+2.
As with Kickstarter, donations of a certain amount are rewarded by different items or events that the band has made available. For as little as five dollars, you can receive an email with a mystery download in it, or you can reserve the right to  have The Snails merch guy do the truffle shuffle for you at any upcoming shows. From there, rewards include digital downloads of The Snail's entire discography, and pre-orders of the band's upcoming album in CD or 12″ LP format (digital downloads of the album are included, and are sent out via email on May 13th when the record is officially released). Also, rewards that are exclusive to the campaign include a special edition 7″ vinyl pressing of "Pale Blue Eyes (Originally by the Velvet Underground)"/"Dub Foundation" in red or black, as well as "I Saved The Snails" t-shirts and posters.
As what is perhaps the most interesting reward available, a $50 donation allows you the opportunity to have The Snails record a song of your choice and have it sent it directly to you (added bonus: a $100 donation gets you the song and a video to go along with it!). Although that type of cash is more than pocket change, it reflects the amount of time and effort involved in learning and producing whatever song you pick. Plus, it can be any song you want. Just, y'know, try not to be a dick about it.
As of writing this last night, the goal was well over halfway fulfilled, but that doesn't mean you have no reason to still donate to their cause. Most of the rewards do not have order limits, and there is some serious positive karma involved in helping a band that has been put at such a serious disadvantage.
UPDATE: The Van has been found, but it appears the equipment inside is still missing. Replacing all of it, as well as repairing the van, is estimated to cost $4,500, well beyond the initial goal of the Big Tunes Campaign. If you can spare a few extra bucks, please help this band in need!
Here's a track released early to tease Songs From The Hydrogen Jukebox, called "Strong Foundation":
https://soundcloud.com/thesnailspa/strong-foundation