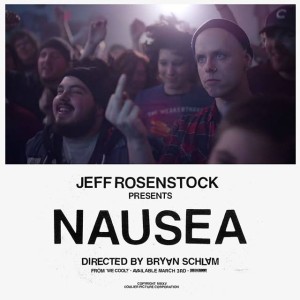 The hype-train for the new Jeff Rosenstock solo album has reached near-critical mass, as yesterday the official video for the album track "Nausea" premiered in all its glitter-spewing, Jeff-dismantling glory. As you may recall, the track is a reworked version of the "Nausea" that appeared as a bonus track to Jeff's "Summer" 7″ back in 2013 (Hear that version here). One of my biggest concerns regarding this new album is how this song in particular would compare to the stripped-down original. I should not have fretted, as the album version's keyboards and energetic drums give the track an upbeat feel. Gang vocals accentuate the extremely catchy chorus, while the really nice layered harmonies near the end of the track reference the same technique used in Summer's excellent "Go On Get".
What's more, We Cool? is now available for pre-order! There are a wealth of bundle packages available exclusively in the pre-order, which include one package of the three colors of vinyl the record is available in, a fancy-looking robe (Jeff ROBEnstock. Get it?), a shirt designed by Andrew Jackson Jihad's Sean Bonnette, and an adorable plush teddy bear that is wearing a shirt that says "Beers Again, Alone". To give you an idea of how much anticipation there is for this record, traffic to the pre-order page at SideOneDummy's website caused the entire website to crash, leading to the creation of a special Bigcartel store to house the various purchase options (the SideOneDummy site has since recovered, so either option can net you some Jeff goodness). Pre-orders are also available through iTunes.
Also, it was recently announced that Jeff will be doing a Reddit AMA on March 3rd, the day of We Cool?'s release. In accordance with what seems to happen whenever Reddit content is involved anywhere, expect a post on that day with copious amounts of shameless copying and pasting.
Don't forget to catch Jeff when he comes to Boston on March 21st at The Royale with Andrew Jackson Jihad. As always, check the show calendar for shows in the area.