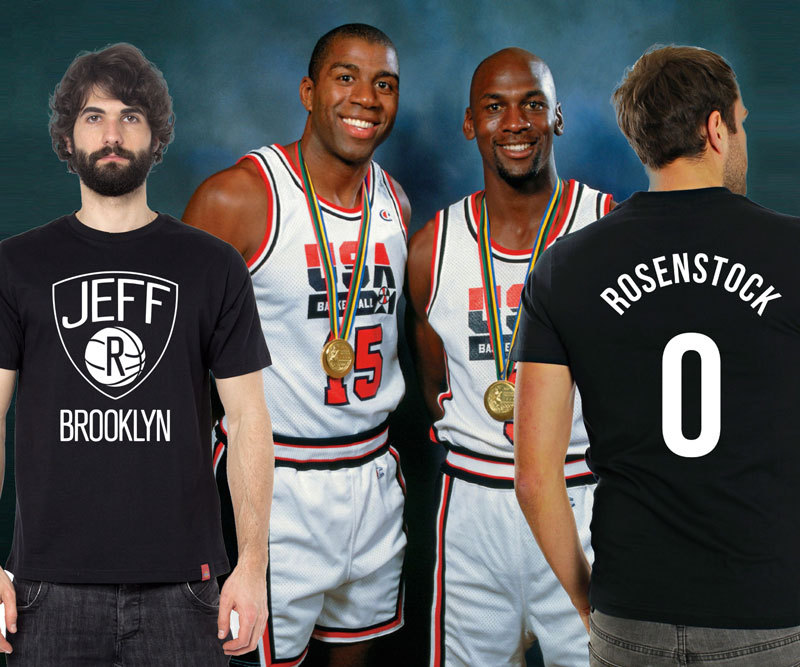 As it turns out, Jeff Rosenstock really likes basketball. Maybe not quite enough to overtly mention it in a song, but enough to create limited edition shirts that are currently being sold on the Really Records website. Incorporating the Brooklyn Nets logo, the shirts feature Jeff's name on the front and back a la an actual basketball jersey, along with a big fat zero on the back that is right in line with Jeff's sardonic humor. If you're worried about offending someone by showing the wrong team colors, a cursory Google search told me the Celtics didn't do too hot this season, so what's the worry? Shirts will be available only until the end of the 2014 NBA Finals (June 20th, again, thanks Google), and are pictured to the right/above (Magic Johnson and Michael Jordan presumably not included).
In more serious news, the Really Records header includes a short statement about how the label's credit card number was recently stolen. While this should not affect your own personal information, it does mean that the label's account is temporarily frozen and orders will take up to ten to twelve days to process and ship. Here's to hoping the issue is resolved smoothly!
And finally, in a sub-segment I'd like to call Roughly About A Month Ago In Jeff Rosenstock, Jeff posted a plea on his personal Tumblr urging folks in the area of East Palo Alto, California to help him record new music during his tour with punk-via-post-punk band Hard Girls. While this is nothing to jump at if you live on the east coast, it does mean that Jeff has new material written that he is trying to get recorded. Perhaps the most interesting part about the post is the instruments needed to record the material, which include a flute, a cello, two different styles of clarinet and several pieces of marching band equipment. This is pretty different from Jeff's usual M.O., so one has to wonder exactly what this new material will sound like (is Jeff finally going to cover "Tusk"? Has Jeff been bitten by a vampire Kenny G?). Either way, count me in as excited. The world can only wait with baited breathe. Check back here for more up to date news than this!