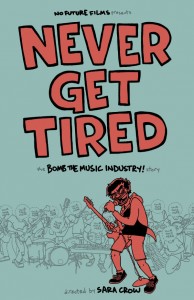 Way back in 2010, a filmmaker named Sara Crow was invited to go on tour with Bomb! The Music Industry in order to film footage for a documentary.  After 5 years touring 11 countries, filming ended at BTMI's final shows last January.  The result, Never Get Tired: The Bomb The Music Industry! Story, is a distillation of over 350 hours of footage from both live shows and interviews featuring members of BTMI, Andrew Jackson Jihad, and Laura Stevenson and The Cans. In order to finish the project, Sara has set up a Kickstarter to raise funds for editing the rest of the footage. This is fitting, as a band that was primarily donation-based is the subject of a documentary that is being funded by donations. Perks for pledging money involve varied things, from your name in the credits, to a sheet of BTMI-influenced stickers, to being credited as a producer in the film!
After a day and a half, the Kickstarter has already received over $17,000 of the $25,000 goal, so things are looking more than hopeful. The most promising aspect is that the film is already made, and what is raised from this Kickstarter will go towards the film's post-production budget. This mostly alleviates a common Kickstarter-related issue where the project is backed in full but the final goal is never achieved.
I'd also like to take this time to remind you about Back To The Island, Jeff's Lost-themed podcast. An hour long episode is released every Wednesday, and a live taping of the podcast is being held this Friday night at Union Hall in Brooklyn (if you feel like traveling).
Here's another video of Jeff playing "RocketRocketRocketship" from his set at the Middle East last December, courtesy of Jeff super-fan and Boston ska (dot) net contributor Kevin Davila.