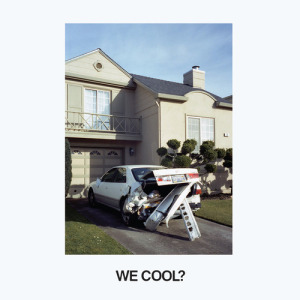 Well, it's official! Jeff Rosenstock has announced that his heavily-awaited new solo LP, titled We Cool?, will be released on March 3rd via SideOneDummy Records. The forthcoming album was produced by the California-based Jack Shirley, who has worked with frequent Jeff collaborator Laura Stevenson and CT hardcore/metal band Deafheaven. This album will be Jeff's first non-bedroom recorded project since Bomb The Music Industry's Vacation in 2011.
The album's tracklist (found below) features the previously-shared single "Hey Allison!", as well as a number of songs with titles that seem specifically suited for Jeff's sense of humor, notably "Beers Again Alone" and "Get Old Forever". Also of note is the track "Nausea", which has been a staple of Jeff's acoustic set for a while now. The instrumentation of this release is another point of interest, as we've noted that a post from last year on Jeff's personal blog asked for help recording from anyone in the East Palo Alto, California area with access to a flute, a cello, two different styles of clarinet and several pieces of marching band equipment. All we're saying is get ready for a punk-as-fuck "Tusk"-inspired tune on this thing.
The March 3rd release date comes a few weeks before Jeff's tour with Andrew Jackson Jihad, The Smith Street Band and Chumped. That tour stops in Boston on March 21st at The Royale, and tickets can be found via Bowery Boston.
Jeff Rosenstock – We Cool?:
1. Get Old Forever
2. You, In Weird Cities
3. Novelty Sweater
4. Nausea
5. Beers Again Alone
6. I'm Serious, I'm Sorry
7. Hey Allison!
8. Polar Bear or Africa
9. Hall Of Fame
10. All Blissed Out
11. The Lows
12. Darkness Records
Below, check out We Cool?'s first single "Hey Allison", as well as a video of an acoustic version of the album track "Nausea" from Jeff's set at The Middle East Club a little over a year ago: