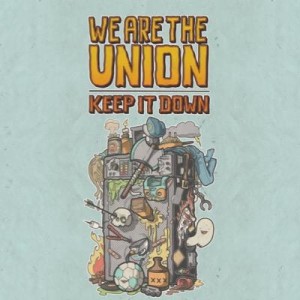 Detroit ska-punk band We Are The Union have made a strong return from their hiatus, premiering two new songs over the course of the past week and announcing the release of their new six song EP Keep It Down on May 15th via Paper + Plastick Records. The two tracks, titled "Call In Dead" and "The Kings of Chords", are quality high-energy pop-punk with a third-wave ska bend and enough catchy hooks to stick with you long after each song ends. This new EP will be We Are The Union's first official release since 2012's You Can't Hide The Sun (not counting that album's b-side collection, released early last year while the band was still on hiatus). Listen to that album and more of the band's past releases on their Bandcamp.
The most notable aspect of this new batch of songs is that WATU have emerged from their hiatus minus a horn section, and you can read more about their current situation in a recent interview the band had with For The Love Of Punk.
UPDATE 5/13/2015: Keep It Down is now streaming in full over at Absolute Punk!
Check out both new songs below, and head over to Paper + Plastick to pre-order Keep It Down. Vinyl copies of the EP are limited to 1000, and those who pre-order will receive a full digital download a few days before the physical release.