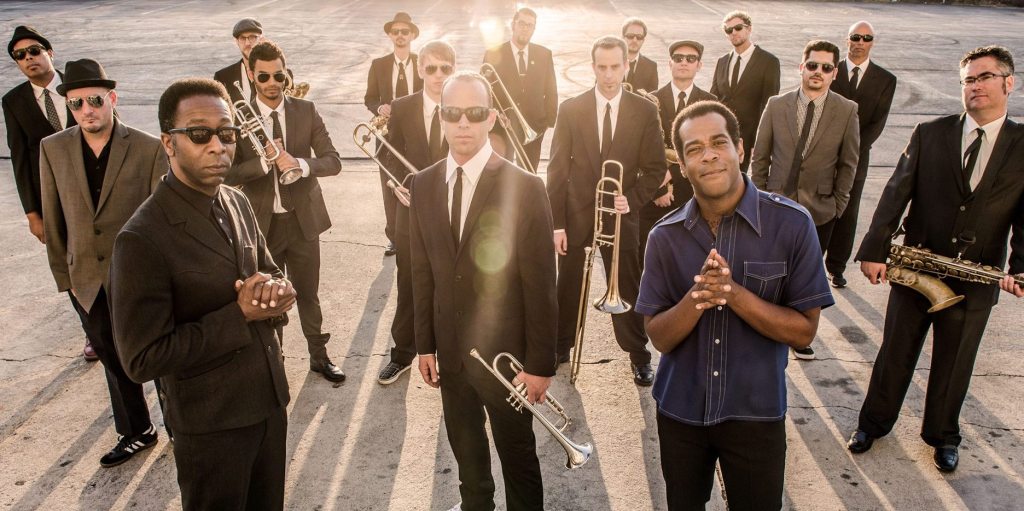 Ska made so much sense to me because my parents were fans of big band music. I grew up thinking music was meant to have horns and a dance beat. When Western Standard Time released their first record in 2012, I was immediately on board. The band boasts an all-star line up of west coast ska and reggae heavyweights including Hepcat, The Aggrolites, See Spot, The Debonaires, and more. I swooned over the first record but their new album released this month blows me away. The arrangements are perfect; the band swings and the horns blast.
Regular vocalists include Alex Desert and Greg Lee of Hepcat but my first listen picked out Vic Ruggiero of The Slackers and Angelo Moore of Fishbone. You might have already heard "I Want Justice," a Delroy Wilson song featured on the RareBreed Recording Co summer sampler. Other highlights so far include "James Bond," "Peanut Vendor," and "Jamaica Ska."
In 2014 they launched an IndieGoGo crowdfunding campaign that did not reach its goal. One of the things I appreciate about IndieGoGo is that, unlike kickstarter, the project can still receive funding. I'm glad this project moved forward even though it did not reach the goal.
This new album is available now on Bandcamp for $9.99. The band has promised a vinyl release and I'm just learning that the first record was pressed to vinyl. Listen below.
BIG TUNES: Peanut Vendor, I Want Justice, Jamaica Ska
WATCH: In the Studio with Western Standard Time
Because I know you're curious how a 39-piece big band gets recorded.