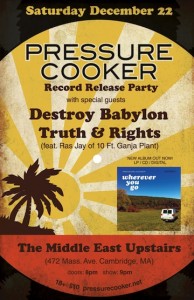 Welcome to first post on Boston Ska (dot) net. Let's call this a soft launch. I'd been blogging at jacobwakeup.com and decided to start this sucker.
I missed the first couple weeks of November but there's still a decent amount going on. I wasn't able to make it to The Toasters on November 3rd at Johnny D's. Did anyone catch any video from the show? I wasn't able to find any on YouTube. It's okay, The Toasters will be at TT's in March.
Shows
News
Email me at jake (at) bostonska (dot) net if you'd like to contribute in any way.
UPDATE 11/19/12 1PM: That update from Dickey? Just that RadioBDC is one of the presenters of Hometown Throwdown 15 #lamesauce.  But, they posted more openers and they're giving away tickets. More info to come.