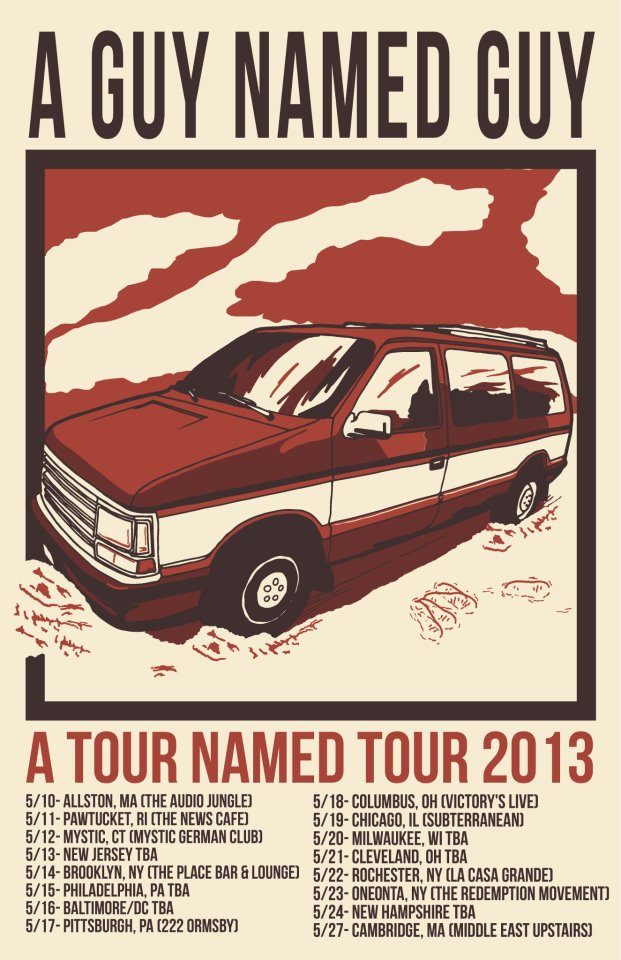 Earlier this month, Boston's own A Guy Named Guy set out on a three-week tour across the Northeast and Midwest USA. I can't think of any other Boston ska bands that have done any serious touring recently (save for Big D heading out on Warped Tour this summer), so let's give these guys some respect; touring isn't easy in the slighted, especially for 7 or 8-piece ska/punk bands. Their first show kicked off in Allston so it's only suitable that they circle back and close out the tour in Cambridge. Touring can be strenuous, so it's nice to start and end with fans and friends.
The band was really great about documenting #ATourNamedTour on Instagram. Here are some photos:
* Photos sourced from Instagram. Boston Ska (dot) net is not responsible for them.
This Monday is their homecoming show at the Middle East in Cambridge and they've put together a venerable Boston Ska showcase (not affiliated with this website in any way). What better way to really stretch your Memorial Day weekend a few hours longer?
Monday, May 27, 7PM Doors
Middle East Upstairs, Cambridge, MA
All Ages, $10
A Guy Named Guy
with FORT! The Band, Poor Jeremy, Mr. Furious
Facebook Event, Tickets
A Guy Named Guy – Full Set – 12/14/12
FORT! The Band – "Livin' La Vida Squatcha" – Music Video
Poor Jeremy – "Dying Like a Fly in a Cup/Dirty Catheters" – All Asia – 4/13/13
Mr. Furious – "Steve" – Midway Cafe – 1/26/13