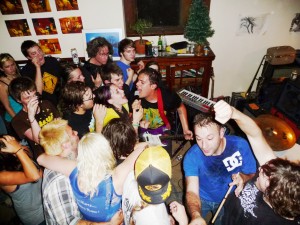 Everyone's favorite punk/ska/folk/etc collective/band/guy/party play at the Middle East Downstairs on Thursday, December 20th. Last time I saw them was almost a year ago at Irving Plaza in New York City with The Slackers and The Pietasters. Between their commitment to playing affordable all-ages shows and general party atmosphere (Bring Your Own Band tour anyone?), I'm a fan. Oh and every song is a sing-a-long. Oh and their fans know every word. Every. Word. I'm always impressed by the dedication of their fans.
Thursday, December 20, 2012
Bomb the Music Industry! (special guests  tba)
All Ages, $10, 7 PM Doors
Tickets – Facebook Event
UPDATE 12/3/12 8:00 PM: Math the Band added to this bill! Hooray!
And there are other shows in December…
Download their tunes for free. Buy some vinyl from Asbestos Records.
Here's "Everybody That You Love" from the 2011 album Vacation.
And "I Don't Love You Anymore" at a party/hall/basement somewhere.
Here's "I'm Terrorfied!!!" from the 2004 Ska is Dead comp.
Also in December
Honorable mention to Street Dogs playing at Paradise on Dec 21 and Dec 22.