This post originally appeared on Boston Scene Party.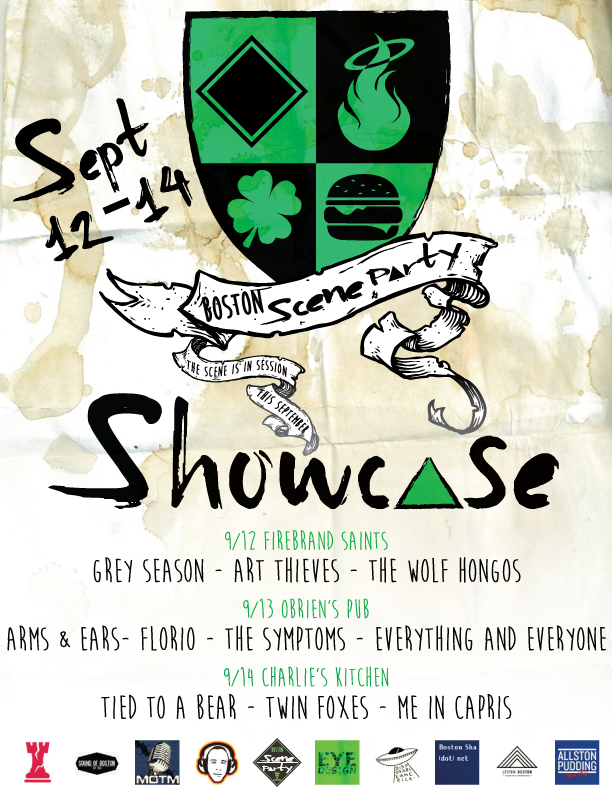 Boston music blog networking group, Boston Scene Party, announces the 'Boston Scene Party Showcase' – a 3-night, 3-venue event promoting the diverse music in Boston, curated by the people who champion it.
"We're excited to finally put together a series of shows with our fellow local music bloggers!" Sound Of Boston Co-Founder and Boston Scene Party member Knar Bedian says, "It's a unique opportunity to bring together Bostonians from all corners of the music scene in an effort that supports local music artists and venues. The weekend festivities take Boston Scene Party's mission to heart– uniting genres, neighborhoods, musicians, and listeners."
The 'Boston Scene Party Showcase' will kick off on Friday, September 12th, and feature South By Southwest and Bonnarroo Festival veterans, and September Boston Calling participants, Grey Season at Firebrand Saints in Kendall Square. The series continues through Monday, September 14th with shows at O'Brien's Pub in Allston and Charlie's Kitchen in Harvard Square – consisting of lineups that showcase the diverse musical talent in the New England. A schedule of events, participating bands and sponsors can be found below.
Schedule of Events
September 12
Firebrand Saints – 1 Broadway, Kendall Square, Cambridge, MA
Featuring: Grey Season, Art Thieves, The Wolf Hongos
Sponsored by: Mutiny on the Microphone, Boston Ska Dot Net, Sound of Boston, Eye Design
$5 / 21+ / 9:30PM
Facebook Event
September 13
O'Brien's Pub – 3 Harvard Ave., Allston, MA
Featuring: Arms and Ears, Florio, The Symptoms, Everything and Everyone
Sponsored by: Lysten Boston, Disposable America
$7 / 18+ / 8:30PM
Facebook Event
September 14
Charlie's Kitchen – 10 Eliot Street, Cambridge, MA
Featuring: Tied to a Bear, Me in Capris, Twin Foxes (RI)
Sponsored by: Bishop & Rook, Music Box Pete, Disposable America
$5 / 21+ / 9PM
Facebook Event