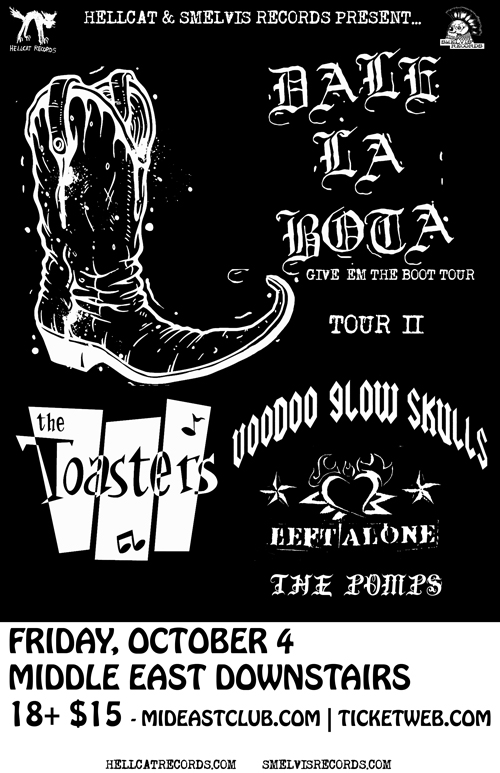 In April of this year, Hellcat and Smelvis Records teamed up to produce the Dale La Bota compilation.
… a compilation showcasing the massive Latino Ska/Punk scene that is centered in the streets of Los Angeles. In the tradition of the globally successful Give Em The Boot Compilation, "Dale La Bota" (meaning Give Em The Boot in Spanish) brings to light a scene that is large by any standards that is growing onto other states and internationally. Having over 20 unreleased songs both in English and Spanish, this comp showcases the true diversity among the bands and styles.
The Dale La Bota Tour, featuring Voodoo Glow Skulls, The Toasters, and Left Alone, comes to The Middle East Downstairs on October 4th in support of the record. Head over to Interpunk to order a copy of the disc.
Boston Ska (dot) net has a pair of tickets to give away courtesy of the Middle East Details on how to win below!
Show Details
Contest Rules
How to Enter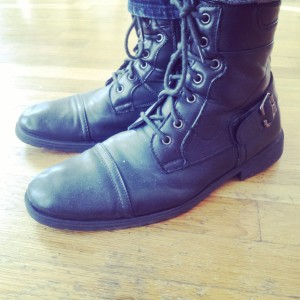 Simply hop over to Instagram or Twitter and post a photo of your boots by September 27th (one week before the show). You must use the hashtags #dalelabota and #bostonska. Shoes are most definitely allowed as well. Creativity is encouraged!
On the weekend of September 28th, we'll pick our favorite from the photos. Yes, those are my boots, and no, they're not so exciting. Yours are probably much cooler.
UPDATE 10/2/13 10:15 PM: We have a winner! Thanks to everyone who entered. We'll see the rest of you at the show! Congratulations, Tom!
Can't wait for Give Em The Boot! #dalelabota #bostonska pic.twitter.com/zURIaW6K3r

— Tom Vezeau (@Vezeaut) September 21, 2013
Voodoo Glow Skulls last released Break the Spell, their 9th studio record in January 2012 on Smelvis records. According to Punknews, they'll be performing their legendary album "Firme."
Voodoo Glow Skulls – "Voodoo Anthem" – 2011 LA Skacore Invasion
Voodoo Glow Skulls – Interview with Eddie and Frank
The Toasters – "I'm Running Right Through The World" – TT The Bear's, 3/13/31
Left Alone – "Sad Story" – Music Video
Be sure to visit our calendar featuring Boston area ska shows.