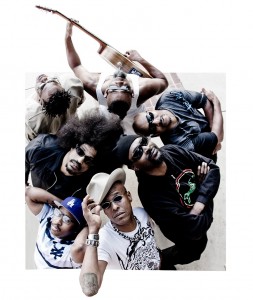 Seminal ska/punk act Fishbone visits Boston this March, performing at new-ish venue The Sinclair. The Sinclair opened a few months ago in Harvard square, fits 500 for shows and 100 for dinner, and is the latest in Bowery Presents owned venues. But it looks like Fishbone will be the first reason I have to visit this spot. It's been a couple years but I'm stoked to see them again!
Saturday, March 3, 2013, 8pm
The Sinclair, 52 Church St, Cambridge, MA (Red Line to Harvard Square, I imagine)
$16, 18+, Tickets
Fishbone last released "Crazy Glue" in 2011. It's everything you'd expect from the band: reggae, punk rock, ska, and badass guitar licks. My only complaint is that it comes up a bit short at only 7 tracks. 2006's "Still Stuck in Your Throat" also seemed to fly below the radar but is definitely worth a listen. That album included "Skank'n Go Nuts" which appeared on the 2004 Ska is Dead comp and a cover of Sublime's "Date Rape" that I thought was better than the original.
So maybe you're not so familiar with Fishbone and you're a bit tired of people telling you how influential they are. In 2010, the documentary "Everyday Sunshine" featured the voices of people you might know tipping their hat (Gwen Stefani, Ice T, Flea, and Les Claypool to name a few). Check the trailer below. Embarrassingly enough, I haven't seen this! But, I just found it's available on Netflix, so consider this issue rectified.
UPDATE 1/27/13: Brunt of It has been added to this show!