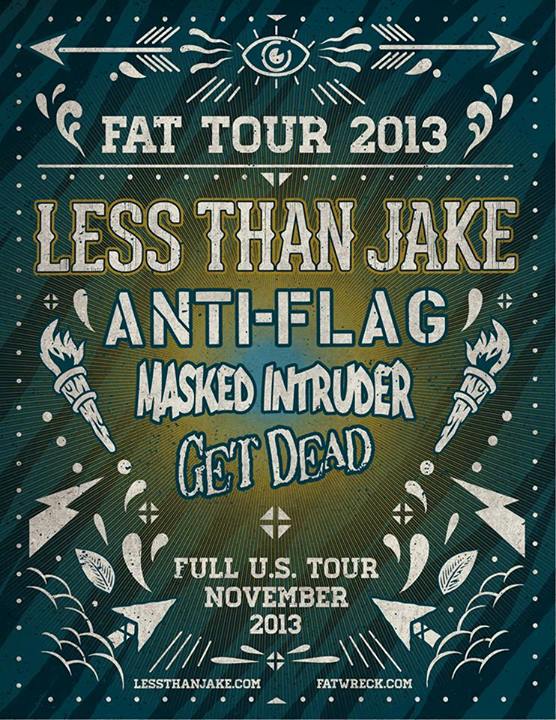 Earlier this year Less Than Jake announced a return to Fat Wreck Chords for their forthcoming record  "See The Light." It looked like they were headed in this direction anyways with the re-issue of their 2000 record "Borders and Boundaries" originally released on Fat Wreck and the "Greetings and Salutation" compilation.
After teasing individual tracks on AV Club and Vice/Noisey, the entire record can be streamed over at Alternative Press. It's reminiscent of, well, of Less Than Jake. I hear hints of Hello Rockview, Borders and Boundaries, and GNV FLA, but by no means is this more of the same. Their songwriting just gets sharper and they somehow manage to keep packing in the energy.
Pre-order "See The Lights" from Fat Wreck. It's available in stores and online Tuesday, November 12th. Funny enough, it's labeled their "First proper studio album in 5 years!" in the description. You'd never know that given the steady stream of new material the band has been delivering to fans.
The Fat [Wreck] Tour visits Boston on Tuesday, November 12th. Supporting Less Than Jake will be Anti-Flag, Masked Intruder, and Get Dead. Anti-Flag last released "General Strike" on Side One Dummy in 2012. Masked Intruder's self-titled debut was re-released by Fat Wreck earlier this year. I highly recommend it for fans of Teenage Bottlerocket and The Queers. Get Dead has a lo-fi acoustic punk thing going on. Watch videos from all the bands below.
Details
Tuesday, November 12, 6:30 pm
Less Than Jake, Anti-Flag, Masked Intruder, Get Dead
Royale, 279 Tremont St, Boston, MA 02116
$20, All Ages, Details and Tix
Anti-Flag – "Broken Bones" Music Video
Masked Intruder – "I Don't Wanna Be Alone Tonight" Music Video
Get Dead – "This One's For Johnny" Music Video