Our September ska/punk night went so well, we thought we'd do it again! This time, we're doing it on a Thursday and we'll be hosting The Beatdown on tour from Montreal! This hardworking four-piece outfit has a deep and unyielding passion for roots reggae, ska, and Jamaican music while adding their own elements of 60's soul delivered with a gritty and uncompromising punk rock ethic. Formed out of the ashes of the now legendary trad ska soul band The One Night Band, The Beatdown will bring their heavy reggae sound to the masses with their explosive recordings and energetic live shows.
Earlier this year, they released a four-track EP called "Let's Go" and have been touring relentlessly in support. You might remember seeing them this past June at O'Brien's with Sammy Kay at O'Brien's. They had such a good time there that they gave us a ring and asked if we could do it again. You better believe we were happy to oblige. We're calling this party the Northern Reggae Takeover!
What you need to know
Thursday, December 4th
O'Brien's Pub, 3 Harvard Ave, Allston
The Beatdown, The New Limits, Poor Jeremy, Thaddeus Merritt Trio
21+, $8, and DJ Panda spinning rekkids all night! Party starts at 8pm sharp!
Join the Facebook Event | Buy Tickets in Advance
Get to know the acts below:
The Beatdown – "You Never Know (live)" – Music Video
This track appears on their 2014 EP "Let's Go." Listen the full thing on Spotify.
The New Limits – "Saturday Morning" – Midway Cafe, Jamaica Plain, 10/18/14
The New Limits features yours truly on guitar. We bring the ska, the rocksteady, the reggae, and above all, we bring the dance.
Thaddeus Merritt Trio – "The Test"
Opening up the evening is the Thaddeus Merritt Trio. You know Thad as the bassist of Westbound Train, The Toasters, and Void Union. His lead fretless bass-playing drives the ska sounds in this act.
Poor Jeremy – "The Car Song" – Roggies, Brighton, 3/29/14
Poor Jeremy has very quickly made a name for themselves, tapping into the ska/punk energy that this city knows and loves. Rumor has it they're back in the recording studio this winter and we are so stoked to hear some new tunes.
DJ Panda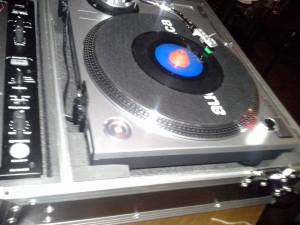 We are stoked to have Andrew Galante AKA DJ Panda selecting records all night! DJ Panda specializes in a variety of niche genres–including ska, soul, 50's & 60's RnB, 80's pop, and Punk–spinning both vinyl & CDs. He's made a name for himself, spinning regularly at places like River Gods and Plough and Stars in Cambridge. There's a good chance you've already heard him spin and you know damn well my iPod didn't cut it last time!
Bring a friend, grab a drink, and we'll see you there!
As always, head to the calendar for a list of upcoming area ska shows…