Do you remember how cold it was Sunday night? It was freezing. But I was going to a show. Which meant I had to strategically layer up. Coat check at the House of Blues doesn't come cheap and they don't let you stack items on one hanger. It was also a Sunday night show with 6pm doors. I was pretty nervous it would be one of those shows that starts before everyone arrives and ends nice and early to get the club crowd in. So there I was standing in the freezing cold, not wearing quite enough winter gear, waiting in line to get into the venue at 5:45. By the time I got into the show, I was less than thrilled to be there.
Dan Potthast (Mu330, Dan P and the Bricks, The Stitch Up) was the perfect opener. It was just him on his guitar playing 1 to 2-minute ska/punk tunes. They were catchy, they were clever, and he had the audience. Which is to say he heckled the audience way better than they heckled him. I wish I caught video of that. Particularly he had a great tune  I'm not super fluent in his material, but I clearly recognized KKK Highway.
He told the audience that he wrote a tune for each night of the tour. I was able to catch his Boston tune on my phone:
It felt like Pilfers had just passed through last Halloween as part of the Skalapalooza weekend. For better or worse, they killed it at that show. In fact, they kill it at every show, so the bar for them is set pretty high. The biggest difference was that Skalapalooza was a weekend and this particular Boston date was as part of a full tour, so there were some line-up changes. For the tour, they brought along Ben Basile on bass and Billy Kottage who both had very big shoes to fill. I'm happy to say they both nailed it: Billy's got the trombone chops and even added keys which definitely added to the set. Nick and Billy took care of the vocal responsibilities that Vinny Nobile would otherwise have handled. My only complaint about Pilfers in an opening slot is that they never play a long enough set.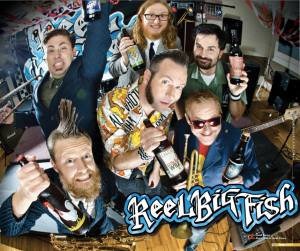 Let's get a few things out of the way. Reel Big Fish is one of my favorite bands, ska or otherwise. I've lost track of how many times I've seen them. This means I've seen them on their good nights and their bad nights; it's called loyalty (or stubbornness, whatever). The last few times I've seen them, they were great. They didn't blow me away, but they were great. However, when I saw them this past Sunday night, they reminded me why I loved them in the first place. Now that their new album had been out a few months, it meant they could play tunes from it (RBF fans are notorious for standing perfectly still for songs they haven't had a chance to absorb); the mix of tunes from the full catalog was great. The schtick was great, too. They've managed to come up with new ways of doing the "we're going to play S.R. in 20 different styles" bit which still make me laugh. And they also made us wait something like 15 or 20 minutes to hear "Beer" while they bastardized songs about their other "favorite" drinks. (Hold up, why the hell did the audience know so many of the words to that damn Pina Colada song?) All in all it was really just a great show for them. Here's She's Famous Now from that night, filmed by someone else.
For a band that people love making fun of, they're keeping busy: They're playing Warped Tour this year, they're headlining Viva Ska Vegas (road trip, anyone?), they were recently on the cover of Beer Magazine (how did that promo take so long to happen?), and they made this super-cheesy-but-completely-awesome-I-wish-I-was-in-it video for "Don't Stop Skankin'":