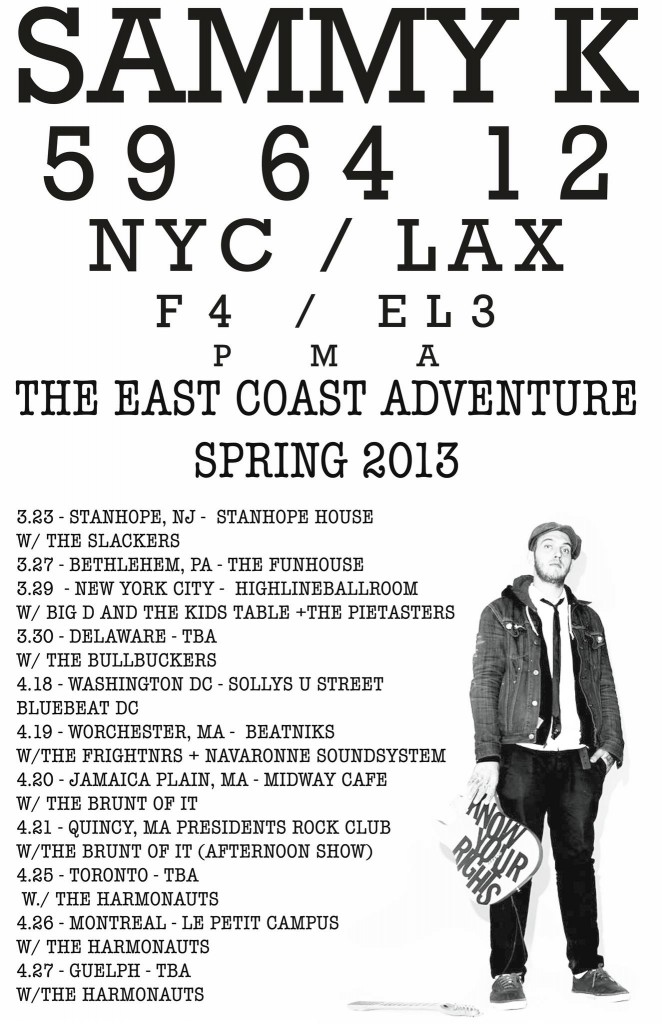 Imagine my surprise when I found out my old pal Sammy Kay was passing through Boston. I met Sammy Kay in New York City when he was playing with The Forthrights and I was playing with The Hard Times and we were playing gigs together every two minutes. Well around the time I was getting ready to move to Boston, he had put a new band together, called Sammy Kay and the Fast Four. They played a few gigs before Sammy took off for the west coast where he plays with the East Los 3.

So, who the hell is this guy? In his own words:
After spending his younger days on tour with Westbound Train, The Slackers, The Skatalites and many others, Sammy finally threw down the merch bin and picked up a guitar to pour his heart back into the scene he loves. 
Sammy brought the Rocksteady back to Brooklyn during his time with The Forthrights and is taking it one big step beyond with his new projects.  
With the help of the Fast Four on the East Coast and East Lost 3 on the West, Sammy is bridging the gap between Reggae, Soul, Ska and Rocksteady while at the same time drawing influences from the local areas he records and the people he collaborates with. 
Sammy brings his East Coast ensemble to New England this weekend with three Massachusetts dates, including Saturday, April 20 at The Midway Cafe in Jamaica Plain. The show is 21+ and cover is $7. Join the Facebook Event. And here's details on the Worcester show April 19 at Beatnik's.
Here's a tune of his featuring Vic Ruggiero and Chris Murray. There are plenty more on Soundcloud to check out. His upcoming album Love Letters was recently funded on Big Tunes (think locally powered kickstarter, the same guys are behind Whatevski Records)
UPDATE 11/10/13: Sammy pulled down the original soundcloud tunes I had posted. I've posted new tunes.
What about Brunt of It?!
Brunt of It is headlining with The Pity Whores, The Old Edison, and Pink Parts in support. (Sorry, I'm just friendlier with Sammy and it's how I heard about the show in the first place! You know we dig Brunt of It here at Boston Ska (dot) net.)
Brunt of It has had a pretty damn good year if you ask me:
Brunt of it – THC (Official Music Video)
Can't make it out to JP? Then check out El Grande, The Soul Rebel Project and Go For Launch at Church on Saturday. Rude Sounds is this Thursday and it just so happens Saturday is also Record Store Day. Support music in any and every way you can.