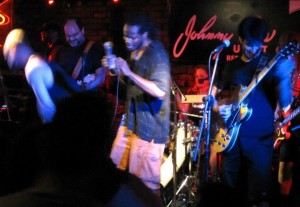 Can we all agree Mondays are the roughest day of the week? Can we all agree that nothing chills you out quite like Bob Marley Jams? So we can all agree that we should spend Monday nights at Sally O'Brien's in Somerville, where every Monday is a "Marley Monday." And the band on stage is Duppy Conquerors.
Bob Marley tribute band the Duppy Conquerors consist of some of Boston's best Reggae musicians and were recently nominated for a Boston Music Award.  They are not a "Tribute Band" trying to look and dress like Bob Marley and the Wailers.  They are musicians that respect the "sound and spirit" of Bob Marley and the Wailers.  With nearly 3/4 of his repertoire under their belts they are the quintessential Bob Marley tribute.
…
Named after Bob Marley's hit song entitled "Duppy Conqueror."  The term means "Killer of Bad Spirits."  And that they are!  The Duppy Conquerors will Lively Up Yourself, Jammin' Bob Marley's music!
Sally O'Brien's, if you've never been, is at 335 Somerville Ave, in Union Square in Somerville. While not the easiest place to get to by public transportation, it's a really chill spot (I usually bike there, myself).
Duppy Conquerors – Easy Skankin' – Sally O'Brien's – 3/7/11
"The Regulars" are events that happen every month. They deserve front-page lovin', too. They'll always be in the calendar.