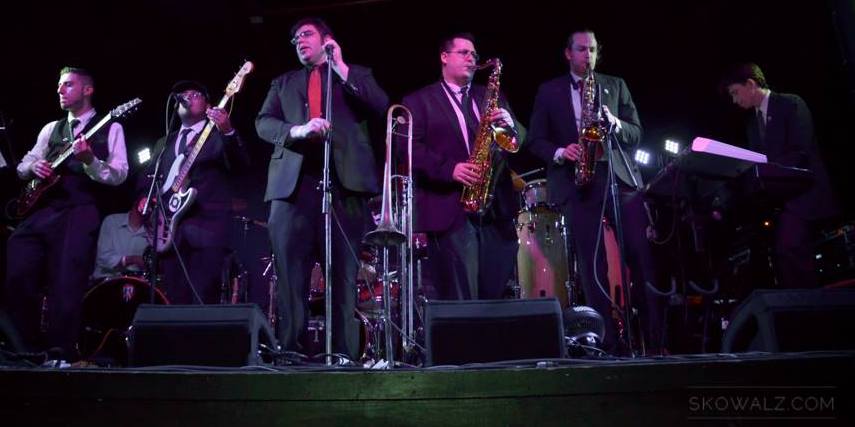 Photo by Sam
The Copacetics have been making a name for themselves in the New England area since 2010. Their live show has always been a treat with their big brassy horn section and spot-on rhythm section. So few other acts in the area, or anywhere for that matter, provide the traditional ska sound with big big and 60s-pop inflections the way The Copacetics do. Fans like myself have been anxiously waiting recordings to carry us from gig to gig, but arguably no one has been as patient and perseverant as band leader Matt Di Chiara, vocalist and trombone player. Having played in the horn sections of bands like The Nice Ups and The Uplifters, Matt has been working hard towards this for years.
The self-titled 13-track album has finally arrived and the time, love, and effort that went into this record are so evident. The horn section shines with both polished hooks and a blend that makes them sound twice as big. The rhythm section effortlessly delivers ska, swing, rocksteady, lover's rock, and reggae that will have you dancing and swaying from the first beat. Matt's baritone combined with lush backing vocals–complete with oohs and ahhs–makes for a truly vintage sound.
Speaking of classic sounds, I can't go without noting the fantastic saxophone stylings of Nick Zambrotta, Paul Dussault, and Chris Brunelle who particularly deliver on the instrumental "The Conquest of Cool." This jam could find a home just as easily on a Skatalites record.
The album evokes feelings of nostalgia and romantic optimism, coinciding with the overall retro vibe of the record. Only in New England could you connect with a song like "Summer's Coming," a rocksteady song about toughing it out through long winters, knowing summer is around the corner. The organ leads in "When the Sun Goes Down" immediately puts you on the beach watching the sunset with someone you love.
And what ska record would be complete without collaborations? In addition to Brunt of It's Paul Dussault playing sax on two tracks, we have a brilliant version of Summer's Coming featuring Boston's Riki Rocksteady chatting start to finish. The last two tracks are bonus dub versions handled by Agent Jay of The Slackers. The record was engineered and produced by local musician Ray Gennari, who has performed with Badfish, The Agents, The Ravers, and Roomful of Blues. He also lends his guitar stylings to four tracks.
Preview two of the songs off the record below. You can purchase the album physically and digitally from CD Baby and it will be on Amazon and iTunes shortly. The Copacetics next perform with The Slackers Friday, February 6 at Manchester 65 in West Warwick, RI.
BIG TUNES: Summer's Coming, Same Mistakes, The Conquest of Cool.
RIYL: The Skatalites, The Scofflaws, The Slackers
"The Conquest of Cool"
"Time Hard"