Members of ska bands Half Past Two, Bite Me Bambi, Catbite, Skatune Network, and Mustard Plug recently came together, through the magic of technology (because COVID), to cover the Dance Hall Crashers classic "Lost Again."
This pitch-perfect cover retains the magic of the original but infuses the energy of these active bands. The song was always a personal favorite of mine, first heard on DHC's live album, and I'm excited to learn others have the same love for the song.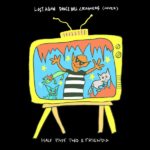 Originally available on social media (YouTube clip below), Half Past Two has made the lossless file (WAV) available for download from their website, and they say only for a limited time. It's pay what you want with 100% of the donations going to support The Loveland Foundation.
The Loveland Foundation and the Loveland Therapy Fund provide financial assistance to Black women and girls seeking therapy. Mental healthcare, along with all healthcare, is a human right. Go pay $5, $10, $15, or whatever you're able to for this quality track and this important cause.