Header photo The Slackers at Irving Plaza, June 2013 / Photo by Bryan Kremkau, Skapunkphotos.com, used with permission
If you'd never heard of The Slackers before and you looked at their resume on paper; you might be quite confused. The band has spent their almost 24-year career putting out albums on Epitaph and Hellcat records. Contemporaries in their rise in the late-90's included the Toasters, the Pietasters, and the more animated punk-influenced bands bred out of the infamous "summer of ska" in 1997.
Yet when you hear the music, the band isn't even close to the other Epitaph bands like NOFX and Pennywise. A distinct departure from the often frenetic ska/punk sounds that defined the era, the Slackers embody a controlled rocksteady swagger that marries the groove with the assertiveness. Stepping back from the in-your-face hyperspeed with which other ska bands of that era used like a weapon, The Slackers focused more on developing melodies at a slower pace, allowing some breathing room for subtle harmonies and unique, intertwining instrumentation. If others in their scene represented kids bursting at the seems with bottomless energy, The Slackers were the stoic parents, more deliberate and wise with their vehicle of music.
The Slackers haven't released a full length album since The Radio, but the band has been touring relentlessly and releasing EPs little by little, feeding new music like appetizers to fans waiting for a the main course. Now, after long last, the band has recorded their new album.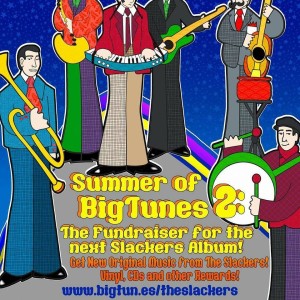 The band generated a fundraiser for the album, which reached over $30,000 by the time it closed. The album itself promises to provide what The Slackers have always done best, which is to use their unique vision of ska music and absorb the essences of other genres such as Psychedelia, Rock, Roots Reggae, and Dub into a blend of music that could only be executed by one of the most legendary bands in American Ska music.
Boston Ska (dot) net met up with Agent Jay, guitarist and producer for The Slackers, for a quick interview about what the band has been up to the past few years, some of the details of the new album, and how Victor Axelrod employed a Phil Spector vigilance to the recording process (well…without waving a gun around or killing anybody).
Boston Ska (dot) net: The band's last album The Radio came out four years ago. What have you guys been up to since? Have you been you guys been playing as a unit often since 2011?
Agent Jay: We put out an EP two years ago called MY BED IS A BOAT and I think a 7″ or two. I can't keep track. We play about 100 nights a year.
BS: You guys had mentioned on your website that you had been writing songs and practicing them during sound checks and recording them occasionally. Why did you guys decide until now to release the album?
AJ: We didn't deliberately wait to put out a new record. We put out a few small releases since our last full-length. With our new record we wanted to change our process. In the past we had a habit of recording before we played tunes out a lot live. That lead to us playing the songs differently from the recording once we got to know them better. The recordings were almost prototypes that didn't have a lot of the nuances that developed as we got our teeth into the tunes. Rather than write a full record then record it, we wanted to only learn four songs at a time and really get to know them and get 'inside them' before we recorded them. Then we would start the process over for the next four tunes. We did this three times for the new record. That's why it took a few years.
BS: Why did you guys decide to bring three producers in for the new album? What would you say each producer brought to your sound that really enhanced the song or the album (yourself included, to the best of your ability).
AJ: We had been self-producing the last few records and, again, we wanted to change our process. We wanted to bring in outside ears that we trusted and that knew the sound we were going for. Victor Axelrod is a veteran of the 80's NYC Ska scene (The Boilers with King Django), the 90's Funk scene and founding member of Antibalas, that lead the Afrobeat revival, and works with the Daptone label and producers like Mark Ronson. He has a little studio in his basement in Brooklyn and really knows how to get that warm tape sound we love. His mixes are incredible. They're the best the band has sounded since the early days, maybe better, without over-producing us or changing our formula.
We brought Brian Dixon in for the second batch of tunes. His work with The Aggrolites flipped the whole Ska scene over and finally got Ska kids to appreciate Reggae en masse. He's a real master but very laissez-faire in the studio. He just wanted to capture what the band does without interrupting the creative momentum. Real pro. And his sound is very raw and bassy but totally balanced and nice.
---
"They're the best the band has sounded since the early days, maybe better."
---
The last batch of tunes were mixed by myself with our band leader, Vic Ruggiero, making the big artistic decisions and putting finishing touches down. I really tried to let the drums and bass and vocals dominate the the songs with the other instruments providing flavor. Real sound system music, but it also needs to sound good through crappy earbuds, small computer speakers, or a nice stereo. Really, a good mix is a good mix is a good mix. Genre doesn't really matter.
BS: How was it working as a producer versus playing guitar on the album? Were you more involved in the songwriting on the songs you produced? Less involved?
AJ: I enjoy the producer aspect a lot but it was all in post for the batch I did, unlike Axelrod, who was very hands-on in the studio. As a producer, my own guitar parts are an afterthought. As the band is trusting me more behind the mixing desk I'm getting more confident with sonic decisions. I enjoy bringing out certain aspects of a tune whether it's traditional Rocksteady/Ska, Motown/Spector, Dub, or Psych. In the end you can't really force a tune to sound a certain way. It's more of a reductive process, as the saying goes, like sculpting – You take away what you don't want and then maybe give it a 'finish' you like.
When mixing other people's tunes I will, of course, get the best sounds I can and develop the tune in a direction I think it's naturally going, but ultimately defer to the songwriter.
BS: Was it easy to shut off the producer side of brain when recording the guitar parts for other producers? What were some of the key pieces of advice given to the band that you agreed with? Disagreed with?
AJ: As a guitarist I have a very minimal job in The Slackers. I just do whatever the song or songwriter dictates. When working with "producers" rather than just engineers we knew we had to surrender our normal methods to their vision. Victor Axelrod had me playing an old high-action hollow-body electric for his sessions. He described my usual Les Paul tone as "icy" and didn't want it. He got possibly the best guitar sounds out of me on any recording I've ever done.
---
"Victor Axelrod got possibly the best guitar sounds out of me on any recording I've ever done."
---
Axelrod had us do many takes of a tune till he was happy, which was possible because we were only doing four as opposed to twelve or so and being pressed for time. This is where our change of process paid off. We would normally never go past three takes because we'd feel the spontaneous energy of a tune would be lost after that. It was common for Phil Spector to have bands run a tune 30-40 times before he was satisfied. Axelrod is old school like that. 'Once more with feeling!'
BS: Will you guys be releasing this album through Hellcat? Did they have any hand in how you recorded this album at all?
AJ: As far as I know Hellcat hasn't made an offer for this record. We'll be doing it ourselves with some P & D deals in other markets like Japan, Europe, etc. We like the direct-to-fans infrastructure that has developed.
BS: In terms of songwriting for this album, you guys mentioned a lot of sounds you've incorporated into the music. What were some of your musical influences at the time you were recording the album?
AJ: It's interesting hearing different influences on songs different band members present. We seemed to all have an unprompted similar vision for this record. Obvious influences are Pink Floyd, Phil Spector/Beach Boys, 60's Pop/Blue-Eyed Soul (Turtles; Blood, Sweat, and Tears; etc), The Clash. Of course, the bread and butter of the band is traditional Ska and Rocksteady.
BS: Summer of Big Tunes 2 is being released as "3 different 45s, an LP a double LP, a CD, and a download package". How come you guys decided to release the albums in all those different formats? From a recording standpoint, is there any particular format that you feel captures more of the essence of the sound than the other? Is there one format you personally prefer over the others?
AJ: I think that came about because we couldn't quite decide on the length the record should be. Vic wanted to do another EP but we had enough material for a long full-length. We thought a double LP as the main release might be a stretch so we cut it to twelve tunes or so and made it a regular LP. The limited edition double LP has dubs, alternate mixes, extra tunes, etc. The "producer series" 7's are for the 45 crowd. I like the concise LP version but am glad a few more of my mixes made it onto the double LP.
BS: Who are some bands you're recording right now (besides the Slackers) that you're really excited about right now?
AJ: I just finished mixing the debut record for J. Navarro (Suicide Machines) & The Traitors. I'm also closed to finishing the new Crazy Baldhead (my own band) record, THE STEREO PROPHECY…AND ELECTRIC HYMNS. I've been doing a lot of dubs for different bands as well.
BS: Moving forward, you just released the preview for "The Stereo Prophecy". What is Crazy Baldhead up to in the foreseeable future?
AJ: I'm not sure who's gonna put out the record. I might do it myself if that's the best deal. I hope to have the band gigging out in 2016. I had to take six months off playing because of a bad arm injury but my chops are coming back steadily. I'm already at work on the follow-up record too.
The Slackers perform this Friday, December 18 at The Sinclair in Cambridge with support from The Pomps and The Feel Goods. Tickets are still available. Join the Facebook Event. 
Listen below to a mix of tracks coming soon on "The Stereo Prophecy" by Crazy Baldhead.